What Exactly Is a Dog Crate?
A dog crate, sometimes referred to as a dog cage or an inside kennel, is used to give dogs a secure place to spend limited periods of time.
Despite the fact that you may purchase them in a variety of sizes, styles, and materials, the majority of dog cages include a wire frame and a removable tray at the bottom where the dog's bedding may be placed.
What are the benefits of using a dog crate:
Simpler House Training: House training your dog or puppy is made easier by using a crate. Naturally, dogs don't urinate in their sleeping or dining areas. They wait and move in proper places because of the crate's constrained area. This reduces accidents, quickens training, and increases opportunities for rewards.
Security from teething: When left unattended, the cage provides a secure place for teething puppies, protecting both your property and your pet. Provide a secure chew toy for solace.
Secure Zone: Your dog will feel peaceful and more inclined to sleep in the crate's safe, den-like atmosphere. In particular for families with small children, it may provide a safe haven and teach important settling skills.
Training time-outs: Rather than being used as a site of punishment, the crate is a calm area for quick time-outs. It aids in the calm and composure restoration of your hyperactive dog. Release them once you're relaxed.
Crates provide a safe method of transportation inside of cars. By shielding the dog from contact with other passengers or objects during accidents, it helps to avoid injury.
What are the drawbacks of using a dog crate:
Promotes Laziness: Crates are meant to supplement training, not to replace it. Use it sparingly and not as a replacement for teaching appropriate conduct.
Possibility for Stress: Excessive usage might stress pets. Limit to 4 hours each day, primarily while you are gone. Anxiety and damage risk may result with prolonged usage.
Unsuitable Punishment: It is improper to use crates as a kind of punishment. Crate training is rendered ineffective by negative connections. Keep your crate-related encounters good.
Crates may be clunky and unattractive : They also take up a lot of space. Prior to purchasing, take into account design and available space, however advantages frequently exceed these disadvantages.
How to Determine the Right Crate Size for Your Dog?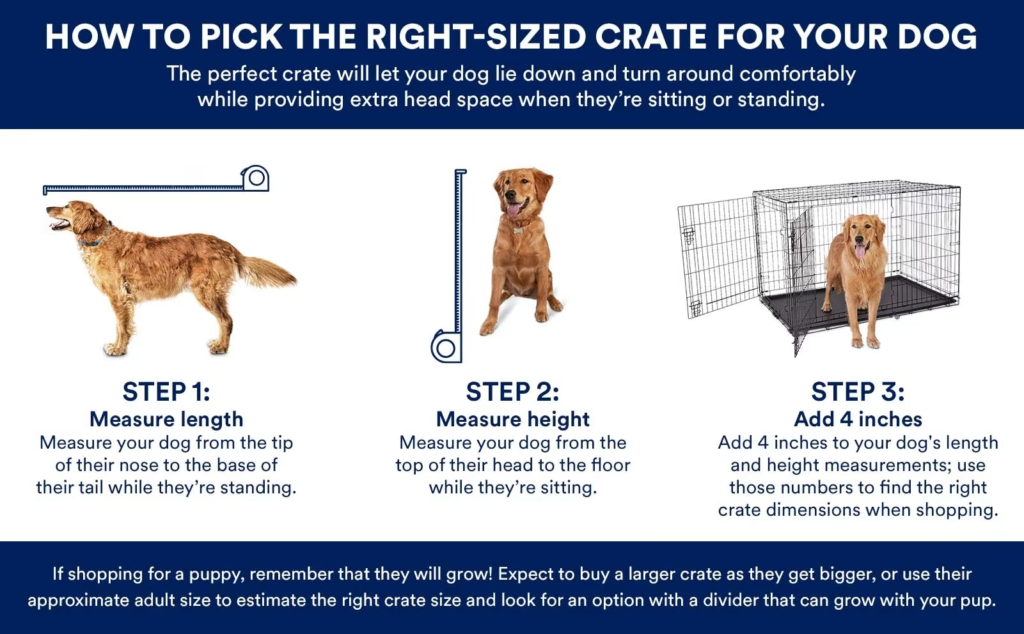 Before selecting the appropriate crate size for your canine companion, it's essential to take accurate measurements. Gather your measuring tape and follow these instructions:
Measure your dog's length: To determine the ideal crate length, measure your dog from the tip of their nose to the base of their tail. Add four inches to this measurement to provide your dog with extra space for comfort and movement.
Measure your dog's height: Measure your dog while they are in a seated position, from the floor to the highest point of their head or the tips of their ears (whichever is higher). Add four inches to this measurement. Measuring the height ensures that your dog can sit comfortably without touching the top of the crate.
Select the crate size: Utilize the length and height measurements to make your crate size decision. While you can opt for a slightly large dog cages size to offer your pup more room, be cautious not to choose a crate that is too big, especially for smaller breeds that might slip through large dog cages gaps.
Selecting the Right Measurements for the Dog Crate
When determining the ideal crate size after getting your dog's measurements, use these helpful recommendations:
Provide space for movement: Unlike a kennel, which doubles as a play place for your dog, a crate doesn't require a lot of space for playtime. But be careful not to make the crate too tiny. The ideal crate size should provide your dog with enough space to stand, turn around, and lie down comfortably without feeling crowded.
Have a look at a massive dog cage: While housebreaking a puppy, they can use one end of a huge dog cage for toilet requirements and the other end as a place to sleep. You may look at guidance from renowned animal trainer Brandon McMillan for suggestions on toilet training puppies.
Even if you are crate training a young puppy, remember to take mature size into consideration by basing the size of the cage on the proportions of an adult dog. The internal space of the box may be temporarily reduced as needed by using a crate divider panel.
How Do I Make My Dog Love His Crate?
Choose a comfortable area of your house for your dog now that you have a crate. Use common sense to locate a spot that is out of the way; stay away from drafty regions and locations close to hot radiators.
Once the box is set up, you might wish to cover it with a towel or blanket, leaving the door unprotected. Set up your dog's favorite food and toys inside, along with a warm, snug bed. Once everything is set up, it's time to introduce your dog to the crate. Be patient since trying anything new might be intimidating. Open the door and let your dog explore at their own pace.
Don't panic if your dog doesn't immediately enter the home. It's not essential right now. Give your dog time to adjust naturally. If they do get inside, they could steal some snacks or play with the toys you put there. Introduce a command like "Into bed" as they grow more at ease to link going into the crate with that action. They'll become accustomed to obeying this order over time. Avoid closing the door too quickly in the beginning. Let your dog full rein to enter and exit the new bed so they may become comfortable with it. Try temporarily closing the door while your dog is inside on the second day, then quickly opening it again. To establish good connections, use rewards and compliments.
If your dog accepts the closed door, progressively lengthen the experiment. When you gradually extend the amount of time the door is closed, sit next to them. If the preceding stages went well, you can leave your dog alone in the locked crate for a brief period of time on the third day. Start with roughly 10 minutes, then increase it progressively to 30 minutes, an hour, and ultimately four hours.
Consider applying a Dog Appeasing Pheromone (DAP) spray to assist reduce anxiety. This is available through your veterinarian. Dogs of any age can benefit, but young puppies especially benefit.
Remember that in all of this, patience is essential. In his or her own pace, your dog or puppy will become adjusted to the kennel. If you make the transition pleasant and rewarding, your dog will soon come to like their new cozy habitat.
Selecting the Best Outdoor Dog Cages from Dog Cages Walmart
Petsmart Dog cages from Precision: For dog owners searching for a dependable and adaptable cage, the Precision Pet Great Crate is a popular choice. This crate, which comes in a variety of sizes, has a sturdy metal construction with a detachable plastic pan for simple cleaning. It is appropriate for training and travel because of the double-door design's practical positioning and access possibilities. While not in use, it may be stored easily thanks to its folding form.
The MidWest Homes for petsmart dog cages : The MidWest Homes for petsmart dog cages are a well regarded choice that can be used for adult dog containment as well as puppy training. This crate offers versatility in positioning and accessibility with its single or double doors. The iCrate includes a divider panel that enables you to modify the available area as your puppy develops, hence reducing the need for additional crates.
OxGord Double-Door Folding Metal Pet Cage: With its sturdy steel wire structure and dual-door access, the OxGord Double-Door Folding Metal Pet Crate stands apart. With front and side doors, it allows for flexible positioning and simple accessibility. For your convenience, the crate has a detachable, easily washable plastic tray. Its collapsible form provides easy transportation and storage.
Suncast Deluxe Dog Cage: The Suncast Deluxe Dog Crate blends practicality and aesthetics for dog owners looking for a more fashionable solution. This sturdy resin-made crate, which resembles a traditional end table and fits in perfectly with your home's decor, is made to last. It serves as both a cozy area for your dog and a stylish piece of furniture. Security and convenience are assured by the single-door layout and strong construction.
Petmate Ultra Vari Kennel: The Petmate Ultra Vari Kennel is a great option for pet owners who value mobility and security when traveling. With reinforced sides and a heavy-duty plastic construction, this box is appropriate for both air travel and road travels. The quick-open squeeze clasp guarantees simple access, while the wire vents enable appropriate ventilation. To suit varied dog breeds, the Ultra Vari Kennel is available in a range of sizes.
Guardian Gear ProSelect Empire Dog Cage: The Guardian Gear ProSelect Empire Dog Cage is a robust alternative made to endure even the strongest dogs. It is designed for larger and more active dog breeds. The unmatched durability and security of this container are provided by its construction from sturdy steel tubes and strengthened steel locks. The grated floor design provides good hygiene and makes cleaning simple.
Carlson Pet Items Carlson Safe and Folding Metal Dog Crate: For dog owners looking for a cost-effective yet dependable choice, go no further than this secure and foldable single door metal dog crate. Your pet's access point is made easy and secure by the single-door design of the structure. With a detachable and washable pan for simple cleaning, the crate has a strong metal structure. It may be stored and transported easily thanks to its collapsible design.
Strong Dog Crates: Specially designed heavy-duty dog cages with reinforced metal structure and double-lock systems are used to address these tendencies. Particularly if you plan to utilize a dog crate in the cargo area of a pickup truck, van, or SUV, these kennels stand out as the best option for crash tested dog crates safety. (Note: These cages could be too big and awkward for tiny and medium automobiles; in such circumstances, we recommend using a crash tested dog crates seat belt harness.)The Center for Pet Safety discovered that typical metal dog cages didn't fare well in the tests after putting them through a number of crash tested dog crates tests.
Conclusion:
Dog cages are a tool with benefits and drawbacks, providing advantages like safety, training help, and travel convenience but also igniting discussions about confinement and ethical issues. It is our responsibility as responsible pet owners to be aware of the intricacies of crate usage and find a balance that supports the wellbeing of our canine pets. We can make the most of this practical tool while respecting the physical and emotional requirements of our dogs by combining effective training methods, positive reward, and a judicious approach to crate time.